Get ready for 2019! Join us for this quarter's Partner Forum in which we will be diving into Degreed's new Pages feature. Hear from the Degreed team about the purpose and impact Pages can have on your organization. The session will also feature a case study from one of Degreed's longest standing partners, Firefly, who will show you how they've utilized Pages as part of their competitive advantage.
Date & Time: Dec 12th
9 AM ET/ 8 PM CST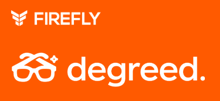 This webinar will be useful for:
An overview of Degreed Pages: the thought and functional capabilities behind the tool and interesting company use cases.
Insights into Degreed's partnership with Firefly: how the organization utilizes Degreed Pages and the overall impact Degreed software has had on the business.
Channel Partner updates from Jennifer Gropel, Global Director of Channel Solutions Engineering.
The form reserves your spot!
About Your Speakers

Devin Northrup is a Skills Specialist with Degreed. He was one of the early hires in the company's history about 4 1/2 years ago. Devin was Degreed's first product designer, and has worked as a product designer for about 10 years. He recently transitioned to the sales organization, applying his expertise as a product specialist. For the last year and a half, Devin and his family have been living full-time in an RV and are traveling around the USA. They try to experience the outdoors in as many ways as possible whether it be hiking, relaxing, Jeeping, motorcycling, or more.

Richard Eckert is the Success Services Manager at Firefly. As a three time Success Advisor of the year recipient, Rich has been instrumental in ensuring the success of Firefly student's training experiences. A key member of the organization for over eight years, Rich has implemented successful strategies to increase user engagement with a direct impact on renewals. As a fifth generation Arizonian, Rich has enjoyed his work as former Chairman of the Charitable Giving Committee at Firefly.
What people are saying about Degreed:
"Degreed turns education into actionable data predictive of success."
Dave Ulrich
HR Magazine's #1 most influential thought leader worldwide in HR
"Degreed allows organizations to inventory their existing employees, train them, and track it all. And, when employees do have external training or experience, have the company give them credit for it—I think that's critical."
Mark Cuban
American businessman, investor, and owner of the Dallas Mavericks
"Organizations like Degreed help people catalog their learning experiences to better leverage them throughout their career."
Josh Bersin
Principal, Deloitte Consulting LLP and Founder, Bersin by Deloitte