Webinar: "Reinventing Learning Content for Next-Generation Learners"
Nearly 70% of the training that employers do is still delivered the old fashioned way – in instructor-led courses.(1) Yet there are now over 1,200 sources of learning content in dozens of formats. And workers are increasingly choosing bite-sized, on-demand, digital options that fit into how they really learn on-the-job.
Join Eric VanDerSluis, Senior Director of Talent & Professional Development at Comcast and Todd Tauber, Degreed's VP of Product Marketing for this 30-minute webinar and learn:
The 3 big trends in how learning content is evolving

Why MOOCs and micro-learning are just the beginning, and…

How innovative L&D leaders are rethinking the ways they use content to keep up with today's empowered, self-directed learners

(1) Association for Talent Development, 2014 State of the Industry Report, 11/2014
Fill out the form to access the recorded webinar
Share this webinar with others: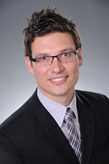 About Your Presenters:
Eric VanDerSluis is the Senior Director of Talent & Professional Development (TPD) at Comcast. Eric advises on talent and organizational development strategies. Prior to joining Comcast in 2010, Eric worked at JPMorgan Chase serving in various roles. He was principally focused on learning & organizational development initiatives supporting all of Card Services.
Todd Tauber is the VP of Product Marketing at Degreed, the world's first enterprise learning portal built with the learner in mind. Before joining Degreed, he led the enterprise learning practice at Bersin by Deloitte, Deloitte Consulting's human capital research business. His thought leadership on corporate learning and development (L&D) has been featured by Chief Learning Officer magazine, SHRM, the Association for Talent Development (ATD) as well as The Wall Street Journal.
---
WHAT PEOPLE ARE SAYING ABOUT DEGREED

"Degreed turns education into actionable data predictive of success."
Dave Ulrich
HR Magazine's #1 most influential thought leader worldwide in HR

"Degreed allows organizations to inventory their existing employees, train them, and track it all. And, when employees do have external training or experience, have the company give them credit for it—I think that's critical."
Mark Cuban
American businessman, investor, and owner of the Dallas Mavericks

"Organizations like Degreed help people catalog their learning experiences to better leverage them throughout their career."
Josh Bersin
Principal, Deloitte Consulting LLP and Founder, Bersin by Deloitte