On-Demand Webinar: How good data accelerates performance
Join a seminar hosted by Degreed in partnership with expert independent learning analysts, Towards Maturity, which will explore high impact learning cultures and the role high performing L&D professionals play in knowing where to find the good data & science behind learning. How can you find and explore applicable data science principles to uncover insight that informs you to make better evidence-based L&D decisions?
WHY LEARNING ABOUT LEARNING MATTERS

Despite 96% of organisations considering having data analytics skills as a priority, only 24% have it in-house.

Towards Maturity's latest Health Check, highlights that only 15% of organisations have managed to improve their ability to gather and analyse data
Only 12% of L&D leaders use performance data to measure the impact of learning programmes.
56% of L&D leaders mention the lack of analytical skills in-house as a major concern.
This form reserves your spot!
Our Speakers: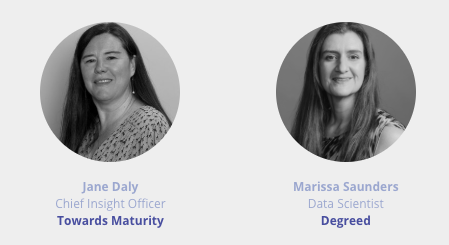 What people are saying about Degreed:
"Degreed turns education into actionable data predictive of success."
Dave Ulrich
HR Magazine's #1 most influential thought leader worldwide in HR
"Degreed allows organizations to inventory their existing employees, train them, and track it all. And, when employees do have external training or experience, have the company give them credit for it—I think that's critical."
Mark Cuban
American businessman, investor, and owner of the Dallas Mavericks
"Organizations like Degreed help people catalog their learning experiences to better leverage them throughout their career."
Josh Bersin
Principal, Deloitte Consulting LLP and Founder, Bersin by Deloitte